Here's something the only the best at personal branding know and do: sharing your own ideas or great idea from others is a great long-term strategy for online visibility!
And the best part: you don't have to spend every waking moment glued to social media in order to see great results!
You just need 15 minutes a day… or about an hour per week. That's all it takes. Remember, investing in your career is a smart way to meet new people and get found online.
Let's take a cue from large and small businesses who use content marketing to attract new customers.
They identify who they want to follow them or who their customer/client is
Next, they identify their interests and problems
Finally, they share articles, videos, white papers, infographics and credible news they know will be of interest to their target audience
You can do the exact same thing!
Who Is Your Audience and What Do They Need?
You want to get on the radar of hiring managers (not HR) and people who work in the departments/areas you want to work in. How do you do this? By sharing articles that interest them! (No, not just promoting you!)
What problems do hiring managers have? Time management, resource management, technology, keeping up with industry news and trends.
Follow these folks on LinkedIn. See what they are sharing. What influencers do they follow? What groups do they belong to? What publications do they read or share from? Next, see if you can find them on other platforms (Twitter and Google+ are good places to start). Yes, this is stalking. But it is also market research. You can learn a lot about what is important to them and what they find news-worthy by doing this investigation.
Now, begin sharing content you know is going to solve a problem for them. In otherwords, share content you know they would be interested in.
What Will You Share?
In order for you to repost relevant articles and information with your network, you need to have sources- blogs, online magazines and sources of industry news. The challenge for me was not overloading my email with updates from all these sources. I used to use Google's FeedReader, until it went away. I've been using Feedly. I have categories of topics I use to organize my content and when I find a good source, I add it to the appropriate bucket.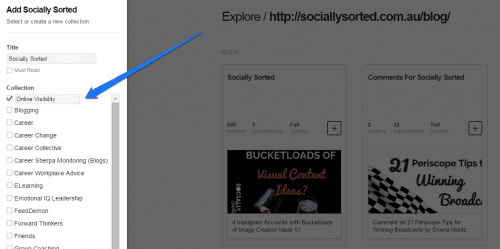 By the way, these categories are very similar to the lists I created and use on Twitter and Google+. It makes it easy to find what I am looking for and what I share.
Your categories may be industry name, type of companies you follow, influencers/important people in your field, career/job search info, interests (sports, hobbies, etc.). Remember, you want to keep coming back and using this, so you might as well have an incentive to draw you back.
You can also use AllTop or SmartBrief to identify popular sources. Another great source is Newsle. This site will update you when people in your network are mentioned in the news or online.
Where Will You Share?
Once you find good sources, you will never have a shortage of information to share. The problem is, once you've shared your great finds, they get lost. Have you ever tried to search for something you shared on LinkedIn? It isn't easy.
In the olden days, I used to bookmark articles, but then I couldn't tell how long ago I saved them unless I clicked the link (time-consuming). AND, I wanted to have an archive to share with other people.
These are some of the tools available to you today to showcase what you've read and shared. These tools are like your own online magazine. FYI: Visual content makes for fast, easy and sharable nuggets.
Pinterest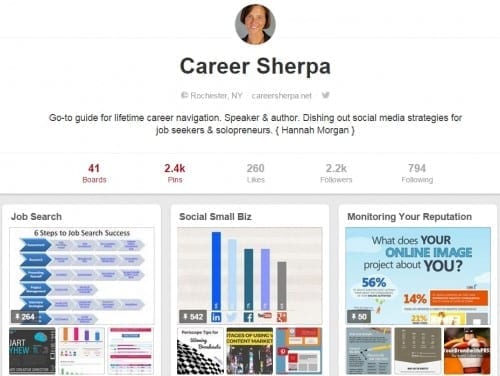 Since Pinterest is a online visual scrap book, think about how it could be a destination for your potential customer/client/hiring manager.
Create boards and add articles about industry news, technology tips, leadership links and your own important career highlights or skills.
Also consider your Pinterest page as a portfolio. Always keep in mind key words and terms recruiters (or others) would use to find someone like you. Use solid, descriptive words  and hashtags to label your pins and boards. Make it easy for someone looking at your board to find what they are looking for. You may even try to make it a fun experience with clever board titles.
FYI: Flipboard is another online magazine-type tool.
RebelMouse
I truly consider RebelMouse my online newspaper. I've set it up to pull all my status updates from Twitter, Pinterest, LinkedIn and Facebook.  This way, no one will miss out on what I'm sharing. It is super easy to set up and share!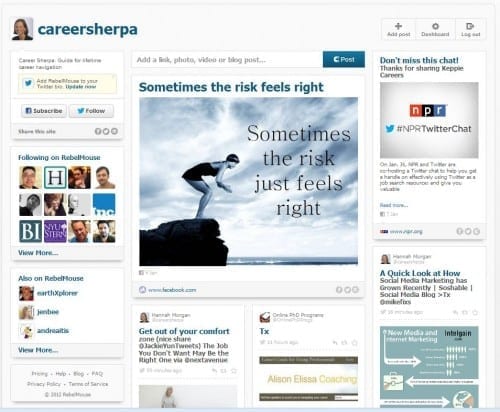 And, anyone can get updates sent to them via email by adding their email to "GET ALERTS"
Storify
You can use Storify the exact same way as RebelMouse. Give your stories good titles aligned with what you want to be known for. People can follow your Storify and get updates.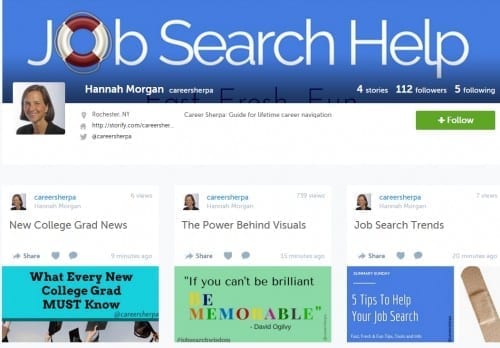 Scoop.it is another similar tool.
Now Publicize
People have to know about you and your resources, so start sharing links to your RebelMouse, Pinterest or other accounts!
You'd be amazed how many of your friends want this type of work info. And make sure you add your update for this as PUBLIC. Use keywords/terms (and perhaps even a hashtag) to attract the right audience. Not everyone will need your information, so you want to be clear about who will benefit from reading what you're sharing.
Share it on Twitter, Instagram, Google+ and where ever you are social.
Start building a solid personal brand today, by sharing!
For this post, YouTern thanks our friends at Career Sherpa!
About the Author: Hannah Morgan is a career sherpa, guiding new job seekers through the treacherous terrain of job search. If you are looking for no-nonsense advice, check out her site Career Sherpa, and follow Hannah on Twitter for the latest job search news and trends!