Your cover letter can be as important as your resume… and must be given the same amount of attention and customization as you put into crafting your resume.
For many hiring managers or resume screeners, your cover letter explains which job you are interested in and more importantly WHY you are interested in the job and position.
By interested, I also mean qualified. Your cover letter must explain what value you are bringing to the company. Don't just tell your story. No one cares unless you tie it back to the job posting.
How to Get Started
Yes, "research the company" has become a cliche… but that is where it all starts:

What is their mission?
Have they been in the news recently or have any of their key officers been in the news?
What types of positions have they been hiring for lately?
What is their reputation?
How to Address Your Letter
Take the time and find the name of the person who is in charge of hiring for this position. If the best you can do is get the name of the person in HR, fine, use it. I hear excuses all the time that people can't find the name. You can and should take the time to try. Use LinkedIn.
If you honestly have tried and can't find the name, then consider using "Dear Hiring Manager"
All the rules of letter writing apply! Know them!
Underline Keywords in the Job Posting
Literally, do this to make sure you are not overlooking any key qualifications or words or skills.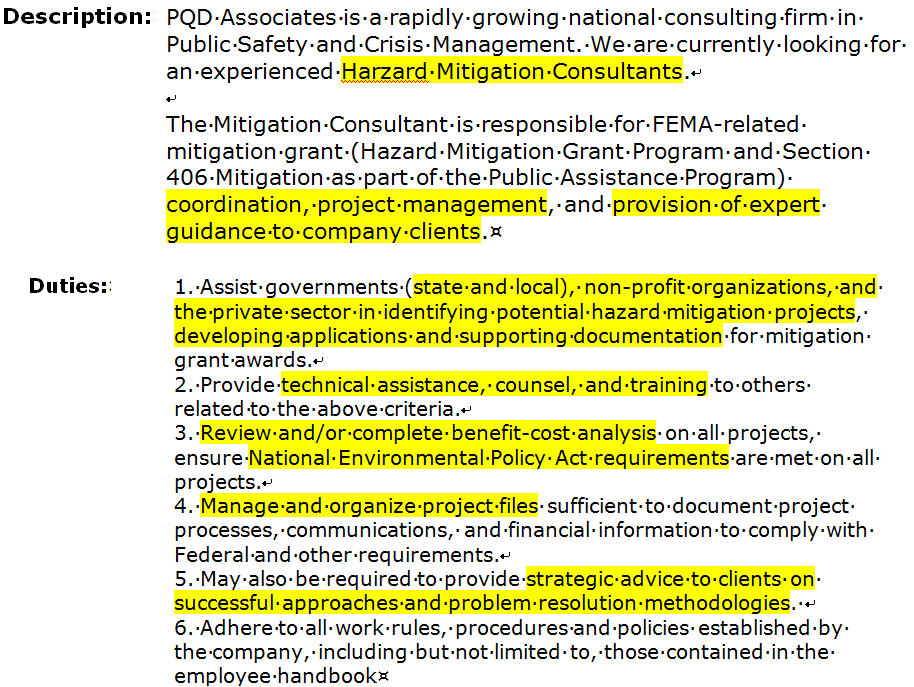 Note: I may have overlooked some key phrases. You may not even use them all. But knowing what you want to emphasize is important.
The Best Way to Format
3 Paragraphs are all you need. Your letter should take up less than a page. People don't have a lot of time. You have to learn how to make your point concisely!
Opening Paragraph Why are you writing?
In response to an ad.
Someone referred you to them.
Use your knowledge of the company.
Make it unique!
Skills Summary Why are you qualified?
When responding to a job posting, match your skills to what they are looking for in the ad.
Briefly highlight your qualifications based on what you know about the company.
Closing Paragraph Thank You and Action Item.
Thank them for considering your resume and reiterate your interest.
Let them know you will be calling to follow up.
Samples and Examples
I know, you want to see samples of what good ones look like. Head on over to QuintCareers and check out their samples here: Professional Sample Cover Letters for Job-seekers
How Should You Distribution?
Follow the instructions in the job posting, ALWAYS!
Email
Your cover letter is most likely too long to go into an email. Put it in your resume attachment as page one. Don't make the reader open up two attachments, they won't! In your email, clearly state that your cover letter and resume are attached.
Note: Name your attachment with your name and job title you are applying for. For example: hannahmorganTrainer.com
USPS/Snail mail
Print the cover letter and resume on appropriate paper.
Sign your name, include your phone and email on the cover letter
Do not staple or print on two-sides. You will make it more difficult for the people processing this.
ATS (Applicant Tracking System)
If you are applying on line, convert your documents to .txt files which strips them of Word formatting. This will better ensure the information is uploaded correctly.
No .pdfs… ever!
The Exceptions
There are exceptions to every rule. Some hiring managers will never read your cover letter. Others will not even glance at your resume unless you have a well written cover letter. This is determined by the preference of the individual. You can't make them read it, nor should you assume they won't read it and not include one.
More Grey Issues
Just as every reviewer has different personal preferences, so does every company and industry have expectations for what they want to see. A position in graphic design would require your cover letter demonstrates your creativity. A position in sales would require you demonstrate your assertiveness and sales skills. A position within an Accounting firm, law firm or government, would expect a traditionally outlined letter.
The most important rule in writing anything? Know your audience!
Do you have questions about cover letters? Please leave a comment and I'll address them!
For this post, YouTern thanks our friends at Career Sherpa!
About the Author: Hannah Morgan is a career sherpa, guiding new job seekers through the treacherous terrain of job search. If you are looking for no-nonsense advice, check out her site Career Sherpa, and follow Hannah on Twitter for the latest job search news and trends!