Social social recruiting is certainly not going away.
According to the most recent CareerBuilder study of over 2,000 U.S. human resource and hiring managers, over 50% of hiring managers use social media to assess candidates.
As big as that number may seem, these findings are more conservative than the 2015 Jobvite study, which found that 93% of hiring managers will review a candidate's social profile before making a hiring decision.
What the CareerBuilder Study Found
Perhaps the most surprising element of the study?
35% of employers said they would probably not consider interviewing a candidate without online visibility.
Rosemary Haefner, chief human resources officer at CareerBuilder said most recruiters, 60%, are "looking for information that supports their qualifications for the job." Specifically, they are looking for:
56% of recruiters want to see if the candidate has a professional online persona
37% want to see what other people are posting about the candidate
21% admit they're looking for reasons not to hire the candidate
Get inside the head of a recruiter/hiring manager/HR for just a second. They want to know as much about a candidate as possible before investing time in an interview.
You do the same thing before you make a purchase, right? Don't you search for reviews online?
The Good News
32% of hiring managers found positive social network content which helped get the candidate hired. What made a difference?
Candidate's background information supported job qualifications – 42%
Candidate's personality came across as good fit with company culture – 38%
Candidate's site conveyed a professional image – 38%
Candidate had great communication skills – 37%
Candidate was creative – 36%
The Bad News
48% of hiring managers said they found information that caused them not to hire a candidate. This number has decreased a bit from last year's findings. What types of social networking findings turned them off?
Provocative or inappropriate photographs – 46%
Information about candidate drinking or using drugs – 40%
Candidate bad-mouthed previous company or fellow employee – 34%
Poor communication skills – 30%
Discriminatory comments related to race, religion, gender, etc. – 29%
To learn more about what NOT to do online, see 6 Things You Should Never Mention on Social Media.
At a Glance…
Here's a summary of key points from the CareerBuilder study: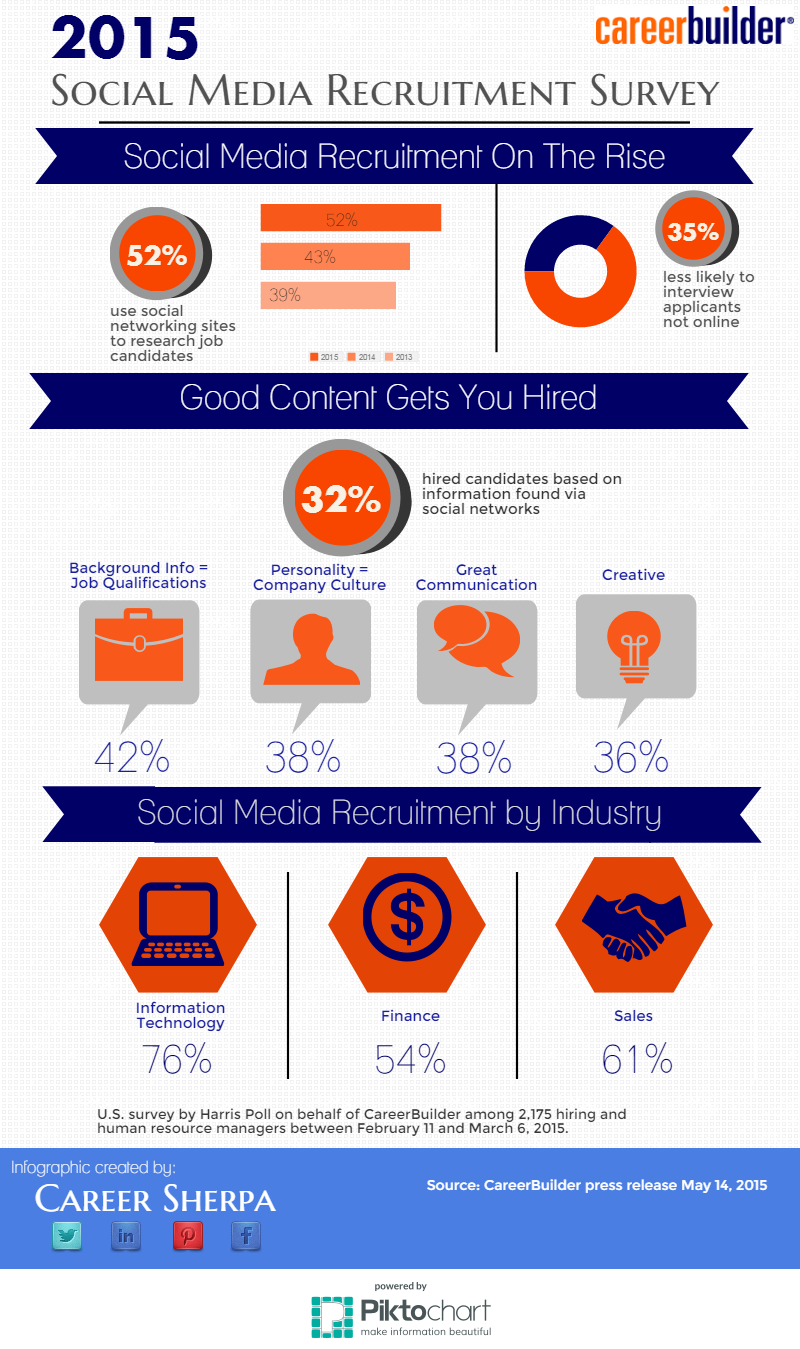 For this post, YouTern thanks Hannah Morgan at CareerSherpa!