Hiring managers constantly lament that they "can't find good talent."And it's no wonder! The majority of them haven't even come close to figuring out how to write a good job description.
These terrible postings result in the companies receiving hundreds of supposedly "unqualified" applicants.
Personally, I don't believe there is an overall shortage of talent. Sure, there are some very specific areas where this is an issue. For the majority of jobs, though, it is my belief that companies just don't know how to describe what they are looking for. As a result, transferable or comparable experience is more difficult to identify, especially for those not trained or skilled in this area.
Why Job Descriptions SUCK
When companies just rattle off a list of desired or required skills, they do little to help the applicant understand the what, why and how!
To prove my point, here are just a couple of snips of the thousands of stinky job descriptions out there…
This job description is a "sponsored post" on a major job board. You would think that if a company is willing to pay the extra money for this ad that it would be better.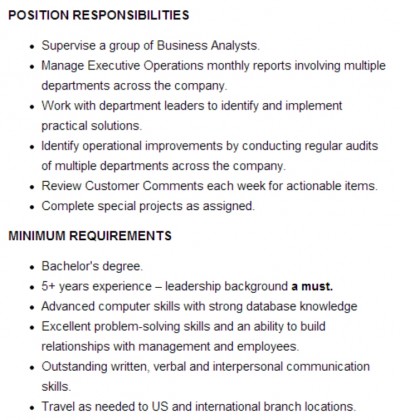 I'm in the career space, and I don't even know what this company is doing… or looking for.
Then there is this posting comes from a recruiting agency that wants to add to their own operational staff. Wouldn't you expect better from a company that does recruiting and hiring professionally?

Where is the what, why and how in that post? How would a job seeker know what success looks like?
How about this job for an Admin Assistant?

I have no clue who PCA and WA Segment Leaders are! Can this even be considered a job description? The job seeker doesn't stand a chance.
The Impact on Job Seekers

It is extremely difficult to respond to a job description without sufficient details about the goals and objectives of the job; it is nearly impossible to match up your accomplishments and talents!
This is really too bad for companies. It will, however, continue to be the norm until more companies are ready to embrace a different kind of hiring. So, here are some take-aways for you job seekers tasked with impressing a recruiter who is unable to articulate what they want:
Write and speak about your related performance success (quantify your impact!)
Read in-between the the lines of the job description. What problems do they have that you can solve?
Applying to any new job (either inside or outside your industry) requires research
Develop all kinds of proof that you have performed your job well! (online portfolio, robust LinkedIn profile, recommendations, etc.)
Job seekers can only work with what is provided by the hiring organizations. It clearly isn't always easy, which makes it that much more critical that you can articulate your value proposition — even if the employer can't figure out what they really want, or need, from you.
We would love to see the worst job description you've come across. Please let us know, in a comment below!
For this post, YouTern thanks our friends at Career Sherpa!
About the Author: Hannah Morgan is a career sherpa, guiding new job seekers through the treacherous terrain of job search. If you are looking for no-nonsense advice, check out her site Career Sherpa, and follow Hannah on Twitter for the latest job search news and trends!