For every job opening to which you send your resume, there are tens or even hundreds of applicants competing with you.
As discussed in a recent post here on YouTern (Want a Job? Earn an Enthusiastic Referral), too really increase your odds of getting hired you first need to build connections inside these companies BEFORE they post a job opening.
This has become easier today, so I don't want to hear the "I don't know anyone who works at any of these companies" excuse. We're going to fix that. Ready to increase your odds? Here's what you need to do:
Scenario 1: You Find a Job Posting; No Connections

There are far too many job seekers blasting their resumes at any job posting that looks remotely close.  This practice alienates recruiters, and your resume is sure to end up in a black hole.
When you find a job you want to apply to, you must do more than just submit your resume and cross your fingers! Take the bull by the horns and find someone inside the company to share what they know or better yet, ask them if they will present you as a candidate for the job. These three posts will help with the details and logic:
Scenario 2: You Find a Target Company; Recruiter Known

A more proactive approach is to find people to meet with BEFORE there is a job posting. Good hiring managers will often meet with people even if they don't have any current openings. They do this because they are always scouting for good talent.
Will they be willing to meet with you? You have to give them a reason to! But first, check out this post on using information interviews to meet with influencers at that company:
Scenario 3: Target Company Identified; Recruiter Unknown

Here's the first rule of finding the name of the recruiter at your target company:
Tap those already in your personal network, all of them, and ask! 
The best contacts are the ones that you have some connection with now. These are either past colleagues, friends, family, neighbors. You have a direct relationship with these people and they are more likely to help you. In order to tap into your immediate network, you need to reach out to them and ask for the information you are missing.
One by one, (not in an email blast, please) reach out to each individual you know well and ask them who they know that works in the target companies you have listed. If you don't ask… they can't help!
Use Social Networks to Connect
No one you know is aware of an employee or recruiter at your target company? Time to go digital…
If you aren't on LinkedIn yet, jump in! Learn the etiquette! And begin your research.
1. Find and Follow Your Target Companies on LinkedIn.

2. Look for the strongest/best connection (someone in the department/area you want to work in is best)
3. You may not have any 1st degree connections; still; you may have 2nd degree connections, people who know company insiders. Among those connections, pick the person who knows you best.. and ask for an introduction.

4. Also see if you share any groups with contacts by looking over on the left to the "advanced search" options.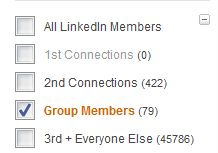 No Connections on LinkedIn, No Problem
If you still come up empty handed, there are some other work-arounds…
Use Social Networks
Find people who work inside your target companies using Twitter, Google+ and Facebook. Your mission is to find and follow people across as many of these platforms as possible. Watch them, see what they are doing and share their good news (give to get!) Once you have established some dialogue, ask if you can contact them off line either via phone, Skype, email (and, of course, LinkedIn)
Some Reminders:
Before you start following every profile, review each one and ask yourself why you would want to follow them and what you expect to learn from them
Human Resources and recruiters can make a good point of entry, but don't stop there; find contacts who head up the department or division you want to work in too!
You may want to add "employee" and/or  "works at" in your search criteria to pare down the results if there are too many
Tools to Find People on Twitter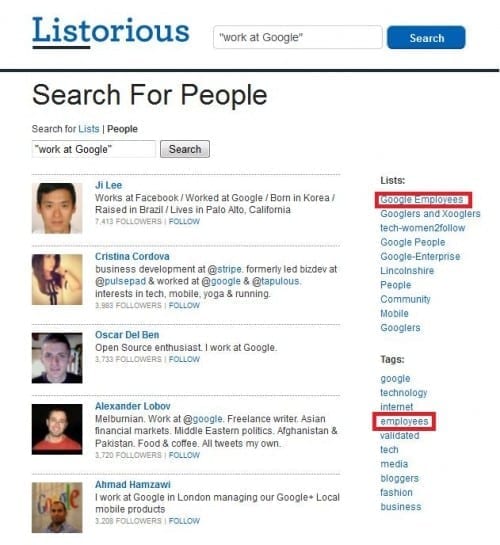 Search Facebook by Employer

Search Google+
Sure, you can use the search bar in Google+. You could also try this tool to search profiles to find people on Google+.
You can filter your search results with the menu on the left side by checking the box for employer and occupation if necessary.
Goalee
Goalee is a tool to help you network better. It uses your social networking connections to filter the data. It is new and I like how it has built in introduction request. I also like the fact that it helps you identify what you can do to help the person you want to connect with.
Get Connected!

It doesn't matter if you are a college student, dissatisfied in your job, or unemployed. Anyone can reach out to people and ask for an informational meeting. And by the way, have you checked out LinkedIn's newest Alumni function?
Remember, the companies on your list do NOT need to have available jobs at this time. You want to think about what future opportunities you can be first in line for… and build your connections BEFORE the next job posting goes up!
For this post, YouTern thanks our friends at CareerSherpa!
About the Author: Hannah Morgan is a career sherpa, guiding new job seekers through the treacherous terrain of job search. If you are looking for no-nonsense advice, check out her site Career Sherpa, and follow Hannah on Twitter for the latest job search news and trends!