I was helping a friend fill a job opening. In doing so I shared some of the job details with some groups on LinkedIn. In my message, I said:
"For more details, send me your resume and a super cover letter explaining why you are the perfect fit."
In my mind, I thought I was pretty clear the cover letter should be super and explain why the candidate is the perfect fit. Perhaps I wasn't as clear as I thought. This is one of the cover emails I received (click to enlarge).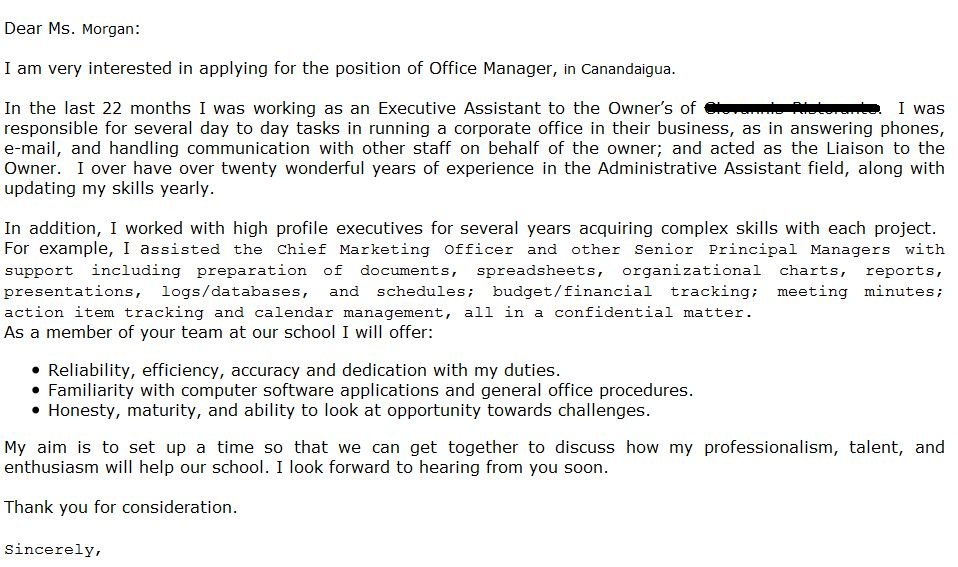 This cover letter, clearly a template with parts literally cut and paste (different font types and sizes appear throughout the email), is a good illustration of all-to-common cover letter weaknesses that will keep you from getting an interview.
Here, I have highlighted 8 of the "thoughtless" (and easily avoided) mistakesthat too many job seekers make: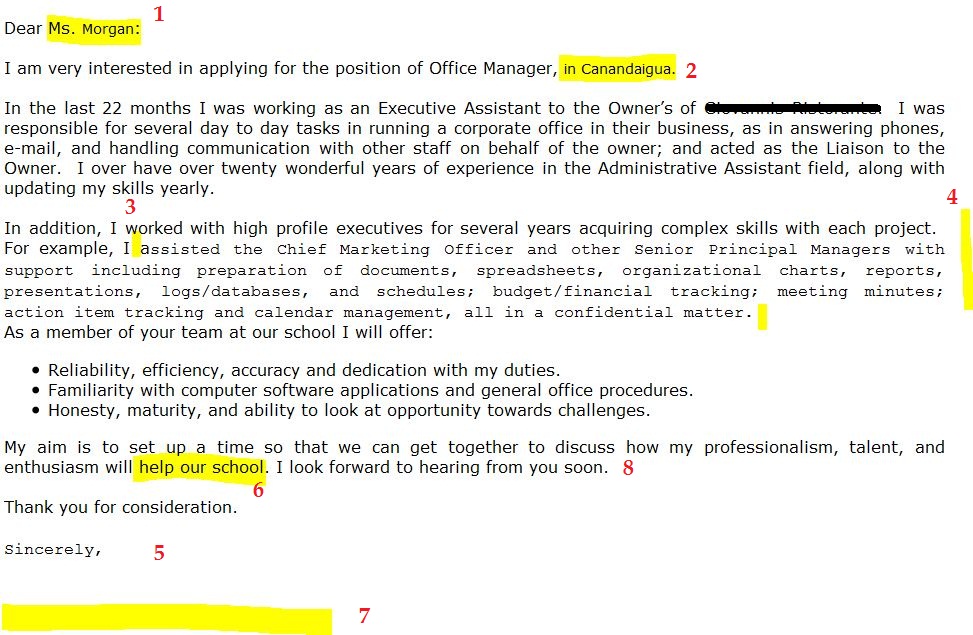 1. Different font style (appears smaller and this is the first thing I see when I open the email)
2. Again, different font style; clearly typed in as part of a form or template
3. Varying sized text
4. & 5. This font style is different
6. Not sure what school this refers to, but it clearly has nothing to do with the job I was promoting
7. The email had the person's name, but no telephone number or "signature" for me to easily contact the candidate or know anything more about the candidate.
8. This candidate expects me to call? Isn't she the one who is looking for the job? Shouldn't she be following up with me? She stated that her aim was to meet with me…
What a Cover Email/Letter Should Contain:
Why you are interested in the job and the company
Who told you about the job (if applicable) or where you heard about it
Examples of use of specific skills mentioned in the job posting
Information that would make the reader believe you are genuinely interested in working for them
Using these points, you will show you know how to follow directions, you are a thoughtful communicator and will set you apart from your job search competition.
No, your cover letter might not get read. However, if it does, it should knock the readers socks off, not bore them, annoy them… or cost you the interview!

For this post, YouTern thanks our friends at Career Sherpa!
About the Author: Hannah Morgan brings over 10 years of experience helping displaced workers search for their next opportunity, and has developed and delivered workshops as well as managed the implementation of Career Navigator, a five-day intensive boot camp for professional level job seekers.
In addition to her blog, Career Sherpa, Hannah is honored to be designated as Job Search Navigator on Job-Hunt.org as well as a featured blogger on HerRochester. She also contributes to Career Collective, a community of expert career coaches and resume writing professionals who write monthly on job search topics, and guest blogs for Brand-Yourself.com on social media trends and tools. Follow Hannah on Twitter!